FIND YOUR ELECTRIC VOICE
WHAT WILL YOU ACCOMPLISH IN 3 MONTHS?
Write 3 electronic songs with a focus on bringing them to the stage
Fuse electronic and traditional instruments
Integrate vocal loops to creatively and powerfully tell your story
Find your true voice and your unique style
Learn how to sing your best with advanced vocal training
Develop your songwriting skills with confidence
Walk away with a songwriter's toolbox to create and finish your songs
Transform yourself through music and reinvent yourself to be who you want to be
YOUR LESSON PACKAGE INCLUDES:
A complimentary 45 minute call to determine your next steps
Your welcome pack created to help you clarify your vision and map out your goals
Twelve 60-minute private singing, songwriting and performance sessions
Custom assignments to keep you on track
Guided vocal warm-ups, technique exercises, and singing and songwriting instructional videos
Additional support in piano, guitar, loop pedals, Ableton and DJing
Email support
Access to my songwriter's toolbox
Your one-on-one experience will be unique and personalized.
I will take you by the hand and get you finishing songs and performing them onstage!
MEET MY INCREDIBLE CLIENTS, WHO...
have won the Amateur Night at the Apollo Theater: Making a Star
are professional songwriters signed with Sony BMG Entertainment
have garnered 70K plays on Soundcloud in two days after a release
were accepted into the Conservatory of Music at Brooklyn College
have written original musical theater and opera works
have written and performed music for their weddings - after taking a fifteen-year break from music and without having had prior voice lessons
have gained confidence through undertaking musical study, transformed their careers, and traveled internationally for months
have been offered their dream jobs that pay more and allow for more flexibility
have started with ZERO music experience and are now preparing to sing in New York City jazz clubs
"Mary is an incredibly gifted teacher who is focused on the individual needs and goals of her students. When I came to Mary to sharpen my vocal skills, she was diligent about using creative techniques to bring out the best in my voice. Through the time we worked together, I competed in the Apollo Theatre's 'Making a Star' competition in New York City and I won!! Whether you're just beginning, have experience, or just want to achieve more vocally, I highly recommend Mary!"
- Anastia Léyon
"I wrote songs as a hobby when I was in my late teens and early 20s. I came back to it much later on with Mary's help. The list goes on in terms of what she's able to bring to the table with her mentorship and instruction.
It's been an incredible experience. Every day we're learning something new, it's relaxed, there's a tremendous amount of support, it's a very positive environment… Just listening to the songs come to life has just been absolutely inspirational.
- Lee A.
"I came to Mary as a multi-instrumentalist and songwriter who wanted help with singing/vocals. A few things were apparent from the beginning: she is a creative, patient, yet demanding teacher with a razor-sharp ear and an endless bag of similes, metaphors, and visual and mental techniques to get across the point she's trying to explain (which is all aimed at coaxing the best out of you in each lesson).
I've had many music teachers over the years, and it is rare to find one who combines vast knowledge of music theory and the fundamentals/techniques of their particular instrument with the ability to translate and teach all of this effectively. Mary is exactly this type of teacher.
I also appreciate that her passion and enthusiasm for music and creativity practically oozes out of her pores, and in the year+ that we've been working together she's challenged me to not only improve my vocals but develop my songwriting skills using Logic. I recommend Mary without qualification to anyone from the casual singer/strummer to the advanced musician or studio geek who wants to up their game to the next level." - Jon J.
"The decision to begin piano with Mary was a catalyst for many life-changing decisions in the months to follow. It truly had a snowball effect. I have decided to leave my 9-5 job and embark on a journey to Europe to do more soul-searching for what I really want in my life. I've experienced a shift in mindset and am learning to trust and listen to my intuition and my heart. I've gone from thinking about life in black and white, to a life full of vibrant possibilities. I am no longer a passenger in my life. I am the driver.
I met Mary during a time when I was experiencing a major transition in my life. Music was something I had always wanted to pursue as an adult but never allowed myself the time. With having only spent limited time in my adolescence in high school choir, it seemed the learning curve would be steep and therefore I sat on the idea for years.
At the beginning of the year, piano and singing lessons with Mary were the start of a major shift in my life in deciding to pursue activities and experiences that fulfilled me regardless of the limitations, or fear rather, that had held me back.
In just a few months with Mary's help, I was singing confidently while playing the piano. Music lessons were a time throughout my week that gave me clarity and the ability to be in the moment... something I had been striving to achieve for quite some time." - Jill A.
"An excellent experience. It's hard to describe the enjoyment and progress I enjoyed with Mary. She is such a thoroughly engaged and skilled teacher. In my first lesson I felt like I improved exponentially, and every lesson thereafter has left me significantly improved.
Aside from the improvement in quality, Mary's teaching and personal style also gave me a massive boost in confidence - I had taken singing lessons more on a whim as something to try, but Mary allowed me to see that I have a voice and can develop it. I am continuing lessons and hope to always improve.
In fact, Mary set me in the direction where, since studying with her, I have appeared in the chorus of six operas, landed the role of Marullo in Rigoletto, and have sung in numerous recitals in Italian, French, English, German, and Russian! I really can't recommend Mary's lessons enough - and she is a lovely person to know, very funny and creative with her teaching and extremely knowledgeable in all aspects of music. What a great experience!" - Andrew R.
"Mary was an ideal voice teacher for me. I'm a singer songwriter who came to her as I was working on an album and preparing to do some live gigs and it really made a big difference. She doesn't have a set agenda but responded to what I needed. I feel that Mary really "got" my music and what I was trying to say. That was key for me – not to change was I was doing but to make it work better to communicate my material.
She has a really good ear and we quickly were able to zero in on some of my tendencies and habits – to be more aware, in control and conscious. I can truly say I use everything I got from Mary in those sessions – good warm-ups, a more relaxed singing approach and a better connection between my vocal production and the words of my songs.
I have one album, Barry Oreck, and I'm going into the studio to record a second with my band, Barry Oreck and Friends." - Barry Oreck, singer & songwriter
"In a few months I have gone from absolutely zilch experience in music, to preparing to sing in a NYC jazz club, reading sheet music, and being able to play beginner to intermediate piano pieces, all thanks to Mary's help and encouragement. I wanted to take music lessons as a kid but never really did, so when I recently felt the urge again I decided to jump right in... and I am thrilled I now work with such an enthusiastic, encouraging, and all around wonderful teacher that Mary is.
My sessions with her are energizing and fun. Even when working through tough sections it is always enjoyable and I come out of each lesson feeling brighter and more confident of my musical ability. I would highly recommend her for anyone looking for a coach." - Michelle W.
"I went through 4 voice teachers here in NYC before settling on Mary - been taking vocal training with her for about a year and half now and it's been worth every penny. Mary is an excellent communicator, with a great sense for analogies and concrete descriptions for abstract concepts (esp. crucial for things like singing).
She's a gifted vocalist, having been classically trained with an opera and jazz background, but more than that - she has the ability to enhance someone else's sense of style and natural voice. She is of course also an amazing human all around, with a great attitude, style, and general "lust for life." I highly recommend Mary as a vocal coach." - Justin H.
"I am so thrilled to be studying with Mary Alouette, as her musical ear, performance technique tips and visual cueing are simply superb. As a voice student who has had considerable instruction in the past, I have begun to address some of the performance and production questions that have lingered in my past for many years.
Mary truly excels at her ability to use visualization techniques to inform on where vocal placements are most effectively produced in the head to aid the studying singer to effectively render correct placement and utilize one's vocal space more effectively. She also excels at being able to hear slight differences in vocal energy and knowing when the support inside the body has relaxed a tad too much. Finally, I am learning techniques to modulate my sound and more effectively vary my vocal production and color. BRAVO MARY!" - Ted C.
"As someone who grew up in India and didn't necessarily have access to proper vocal coaching before, I knew I needed to learn more about using my own voice in a healthy, creative manner. Mary helped me think of my voice as an instrument with its various moving parts in terms of the proper space creation, and developing a way to feel when the sound coming out.
I recommend Mary for everyone but especially those who are looking to refine and learn the proper techniques to crafting a good sound and also to unlearn some bad habits that one may have developed due to a lack of proper coaching while younger. Overall, Mary is a pleasant, professional teacher to work with and has definitely pushed me towards being a more knowledgeable and aware singer about my voice and its mechanics." - Vaibhav A.
"As somebody with performance experience, I took weekly voice lessons with Mary for both custom feedback on my unique style and for the general voice training that I'd never had. Each lesson was rigorous: no cakewalk, she expected me to steadily move forward and improve, which I did." - Kurt C.
"Mary made me feel comfortable to open up and share my deepest thoughts, paving the way for my new self to emerge. The experience was definitely therapeutic and I know what I must do now. I was feeling a little lost at a stage of my life where my business was successful, but other parts of my life didn't seem to be on track, making it difficult for me to enjoy my success. I wasn't sure what it was, so I decided to work with Mary to give me more direction or help me to find the root issue. I figured, why not? I always had a clear direction in my business life but never really thought about making that same effort for my personal life until now. After talking to Mary, I feel clear about my needs.
I'm happier even after one session, knowing I have a plan now. I definitely recommend seeing Mary if you're in need of direction, motivation, or clarity. A few hours can change a lot and make you realize what improvements may need to be made. Worth every penny!" - Magda Ryczko, hairrari.com
"My decades-long musical history was moving toward something new - singer-songwriter-guitar performer. I needed help. Mary is shockingly amazing in all three, which says nothing for her piano and tech skills, which says nothing for her really beautiful ear and professional easy demeanor ... I can't recommend her enough. She has transformed a part of my musical world into something, for which I am both eternally grateful and waiting for my next lesson." - Jonathan V.
"I started training with Mary about a year ago to get my voice back in shape. After my first lesson with her, I felt so happy and inspired. Her positive and passionate energy is so powerful. I learned so much after only one lesson, and as we continue, my voice keeps getting stronger and my range is expanding. Recently, she coached me through a few pieces I had to prepare for an audition. She helped me stay disciplined and positive. With her help, I totally nailed it. I sincerely appreciate her enthusiasm and vibrant spirit along with her support and encouragement. Mary's an all around unique, talented and genuine person that I'm lucky to have stumbled upon." - Laura B.
"Mary has been an excellent voice coach! She is very supportive, patient and enjoyable to learn from. Not only has she taught me about the technical aspects of voice, but she has exceeded way beyond that. Mary has helped me with singing and music in a more experiential way. She has provided me with her expertise on lyrical writing as well as performing. I continue to learn and understand my strengths and weaknesses vocally alongside Mary and she is ready and willing to take on every challenge along the way. She has helped me gain the skills and confidence to use my own tools and start creating my own music! I would recommend her highly to anyone who is interested in taking voice lessons!" - Erin F.
"I began taking lessons with Mary after I heard her sing. Besides having a terrific voice I really love how effortless she makes singing look. She's been helping me connect the dots and I appreciate her method. She works with me to build my voice and doesn't push a style or direction. Her descriptions give me directions on what to think and how to feel when I sing. I look forward to the coming months!" - Jon R.
"Looking back at the recordings it's really cool to see the progress I've made. Thanks to Mary, I sound clear, in control of my voice, and can easily reach the high notes. Thank you for the great lessons!" - Tessa F.
"Mary's qualifications as a musician/vocalist are quite astounding. Her qualities has a teacher in my opinion stretch way beyond her musical resume. Her level of patience is quite extraordinary for one who possesses expert level proficiency, teaching someone of introductory level. She has an extremely keen ear and a fine attention to detail. This gives her the ability to spot errors in form and offer the necessary corrections. Beyond all that, she is an extremely warm person who is easy to get along with and who expresses deep care for the improvement of her students. As someone with some level of musical experience, I can confidently recommend her for anyone from beginner to intermediate level. I am much more confident in my voice since taking lessons with Mary and believe I have improved overall as a musician." - Jack L.
"Inspiring teacher! I walked away from my first lesson with Mary feeling incredibly inspired. I love her method of teaching and feel I have learned an awful lot already and I have just begun. Her lessons are fun, encouraging, thorough and unique. I look forward to working with Mary and incorporating new techniques into my style. I'm so happy I stumbled upon her!" - Mary K.
"Mary Alouette's vast expertise and passion for music makes her the perfect instructor. She takes the time to find out exactly what you want to work and/or develop on and builds a custom lesson plan that is never boring and always engaging. Her studio space makes for a great atmosphere with musical instruments readily available. She is always on time and very flexible when it comes to scheduling appointments. So if you are a beginner that's just starting to sing, or an experienced musician looking to grow as a professional, Mary is the perfect guide." - Sar D.
"I had a great time studying with Mary. I always felt I had walked out of a lesson a step closer to my goals and put in the right direction. I found she had good knowledge of her tools and how to apply them to whatever it was that I was up against." - Lucas M.
"I really very much appreciate Mary's lessons. She not only makes the most of where I am musically and with my busy schedule, she always finds a slice of exactly what I need, a piece of what's usefully available. There is something about her ability to hear what I am doing, maybe to even hear merely what I intend, and boiling it down to workable and useable elements. In that way Mary just amazes with her gifts and talents and good nature. So if I don't thank and recognize her enough, let me do it now. Thanks!" - Johnny G.
"I had a great time studying with Mary. I always felt I had walked out of a lesson a step closer to my goals and put in the right direction. I found she had good knowledge of her tools and how to apply them to whatever it was that I was up against." - Lucas M.
"A truly remarkable experience. I would recommend her to anyone who wants to improve their singing voice or their ability to play the piano. Working with Mary was amazing. She was my first singing instructor ever and she left an impact that will last me for the rest of my life. She was thorough in all of our lessons and was always honest with me. If I wasn't doing my best, she'd let me know what was wrong and how to fix it." - Mike J.
Also known by her artist name Alarke, Mary stands out with her compelling twist of experiences as an international opera singer turned Gypsy jazz singer turned award-winning electronic pop singer and songwriter.
Throughout her 26-year professional career, Mary has mesmerized audiences from the Kennedy Center, the Rainbow Room, Carnegie Hall, and Blues Alley to Fabrica De Arte in Havana, Cuba, Romani caravans in Samois sur Seine, France, and castles in Italy and Austria.
She's released 4 albums of original music, written songs that have gone to NBC's World Of Dance and won the Grand Prize in the Mid-Atlantic Songwriting Competition, performed at the Apollo's National Tour, won artist residencies at Strathmore and the Brooklyn Arts Council, created a monthlong artist retreat in Cuba, collaborated on a Cuban hip hop album, wrote and recorded a Cuban jazz album, sung the US National Anthem for the Baltimore Orioles and the Washington Nationals Major League Baseball teams for 35,000 attendees, performed a lead voiceover role for the Wii video game "Boogie Superstar" by Electronic Arts (EA Games), composed and performed two live film scores at Nitehawk Cinema in New York City, and written songs with residents at the Ritsona Refugee Camp in Greece. She holds a Bachelors of Music degree in Classical Voice with additional studies in Digital Composition from the Schulich School of Music at McGill University in Montréal, Canada.

Her music is an exciting, vibey, future-forward melt of pop, electronic, dance, and world music.
If you answered, "yes," "yes," and "yes" again, and if you're feeling more excited with each moment that passes, then apply now to get started right away.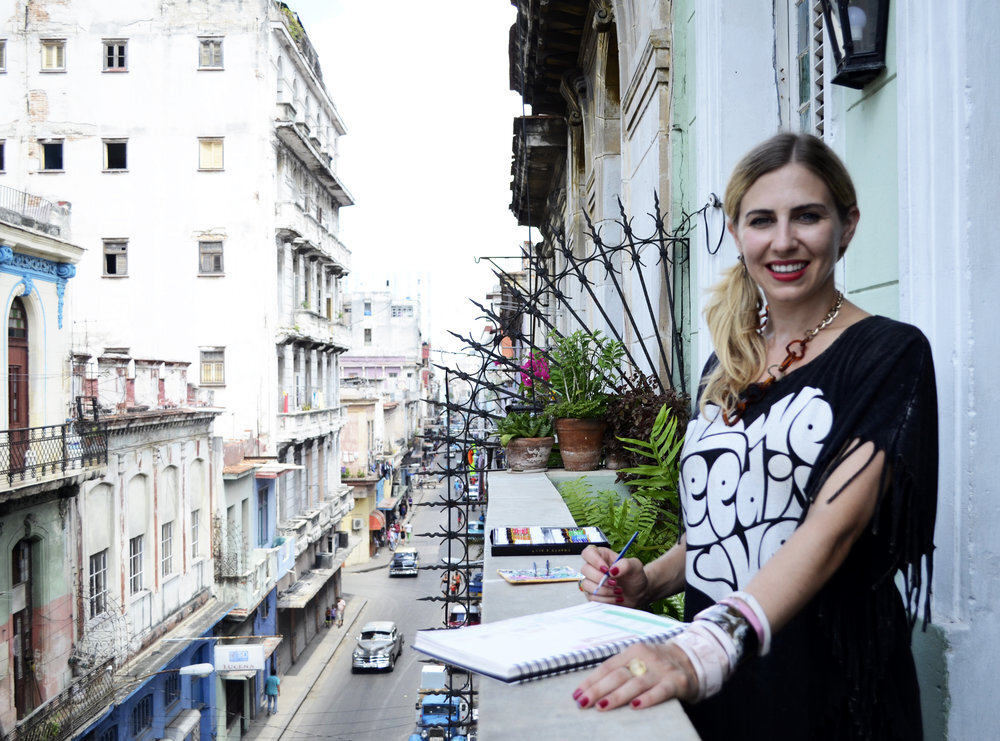 From the outside, it may look like I've been one of the "lucky" ones.
The truth is that I've been told NO over and over and over again. I've faced rejection countless times. I simply decided to take a leap of faith and go after what I desired. I've found that things always have a way of working out and what's on the other side is exponentially more powerful and rewarding.
Once you shift through that fear and self-doubt and implement a proven approach to confidently show up for yourself by committing to write and perform your songs, your life will become fun and inspiring, and you'll finally be able to enjoy the freedom, passion, and creativity that you've always dreamed of living.
Or, you can choose to go back to life as usual.
You'll continue to struggle every day and watch your dreams pass you by.
You'll wonder why your efforts aren't creating results.
NOW is your moment to...
DREAM BIG. CHOOSE YOURSELF. CHOOSE YOUR PASSION.
ACT COURAGEOUSLY. BEGIN.
P.S. This Set Your Life To Music experience is designed for the individual who is ready to take action on their desires and transform their musical life at a level where unparalleled freedom and creativity become the new normal.
You don't have to stay hesitant, lost, overwhelmed, or stuck any longer. Get out of ordinary life! Transform yourself into the person you want to be. You'll experience a new sense of confidence and pride as you grow in a meaningful way that ignites your soul and spirit.